Partial.ly now supports creating payment plans from Shopify draft orders! After you've created your Partial.ly merchant account and connected your Shopify shop, just navigate to a draft order in your Shopify admin, click the more actions dropdown, then click Create Payment Plan button.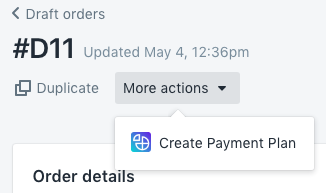 Any customer, product, shipping, and tax information in the draft order will be automatically added to the Partial.ly payment plan. Customize the payment plan with your own terms, or use a default offer, then send the plan request to the customer. When the customer opens their payment plan, the draft order will automatically be finalized in Shopify and create the associated order.
We hope our new Shopify draft orders feature will help make it easier for merchants to sell from their Shopify admin. Are you using Shopify's draft order feature to place custom orders? Try offering Partial.ly payment plans!